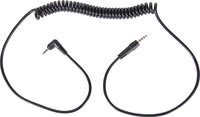 You have placed the following items in the shopping basket:
N-COM INTERCOM CABLE
Nolan n-com intercom cable

For connecting two Nolan helmets for the intercom function.
Following parts are necessary for the connection:

2 x Nolan helmets
2 x n-com Basic-Kits
1 x n-com Intercom E-box
1 x n-com Intercom cable
Manufacturer details: Nolan
More than just a helmet

Nolan has been developing and producing motorcycle helmets since 1972. Today the Italian firm is one of Europe's leading helmet manufacturers. The driving force behind this success story has always been a passion for offering bikers ever-better helmets. This continuous technical enhancement - not only in terms of helmet design, but also production technology - means that each new helmet model incorporates still greater quality, comfort and biking enjoyment, but most importantly of all, greater safety. For Nolan, safety is the utmost priority for every helmet that leaves the drawing board. No surprise, then, that Nolan does not make use of external suppliers. From raw materials through to final inspection and packaging, the entire production process is carried out in-house at Nolan.
The ratings will be available to you again soon.
+400 brands
2-year right of return
Fast delivery
Worldwide shipping