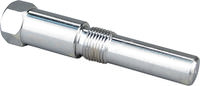 LOCKING TOOL
FOR 2-STROKES
You have placed the following items in the shopping basket:
LOCKING TOOL
FOR 2-STROKES
Whenever you need to undo the nut on the crankshaft of a 2-stroke bike (especially small 50cc machines), it's advisable to lock the engine via the piston. This is where the locking tool comes in useful.

You screw it into the spark plug port to prevent the piston from moving up and down. The crankshaft can no longer turn, and the nut can be undone.
For spark plug thread M14 x 1.25
Professional quality
List of compatible motorcycles
The ratings will be available to you again soon.
+400 brands
2-year right of return
Fast delivery
Worldwide shipping