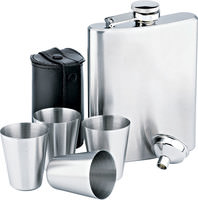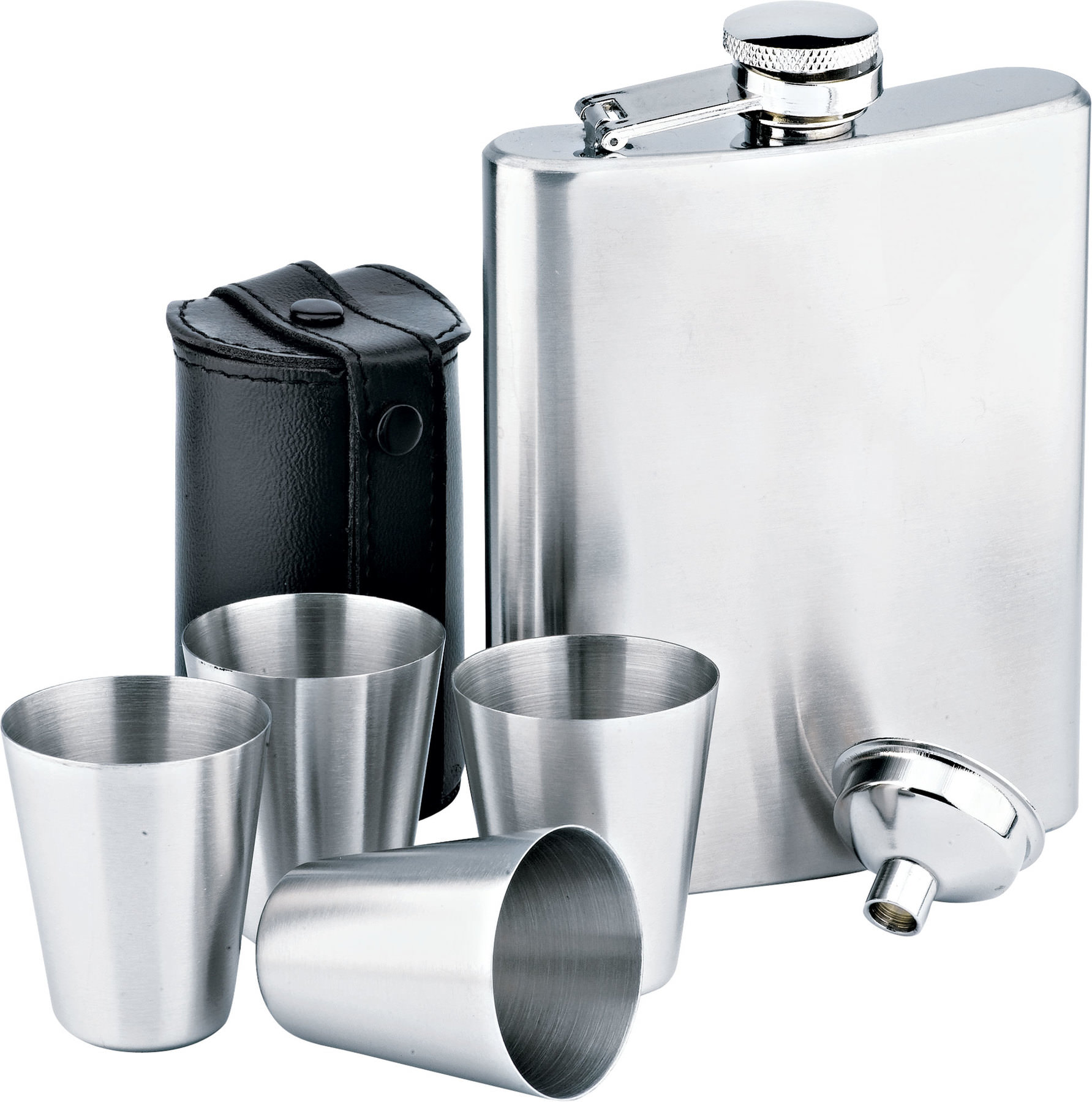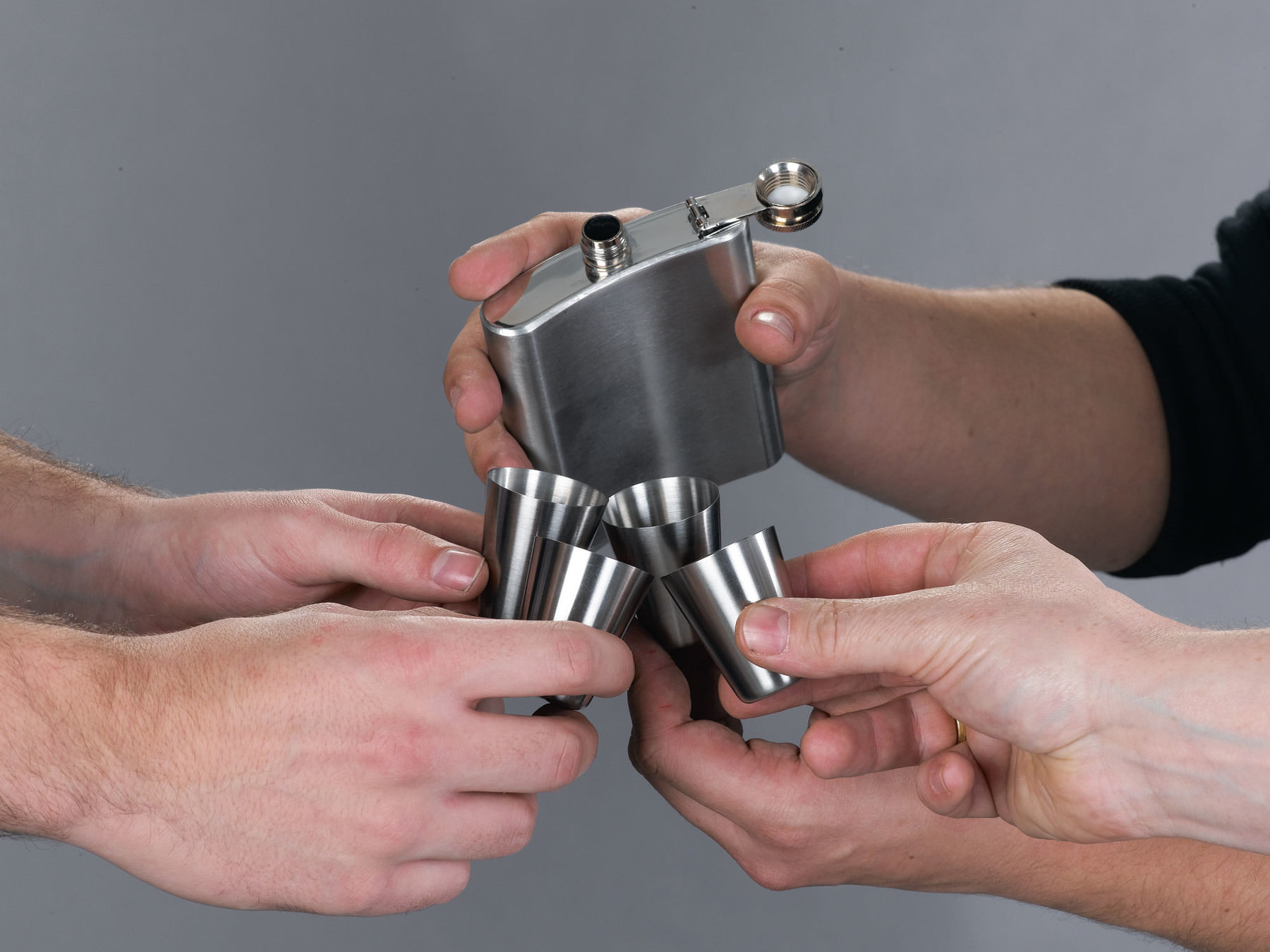 HIP FLASK SET
7 PIECES, STAINLESS STEEL
You have placed the following items in the shopping basket:
HIP FLASK SET
7 PIECES, STAINLESS STEEL
Enjoy biker festivals and motorbike meets in style! Also handy for hiking, sports, skiing, hunting and fishing etc.

Comprises:
1 stainless-steel hip flask
4 stainless-steel cups
1 faux leather case (incl. belt loop)
1 funnel for filling

Specs:
Capacity of hip flask: 210 ml
Dimensions (L x W x H): 115 x 95 x 25 mm
Hinged cap cannot get lost:
Material: Brushed stainless steel

Advice from manufacturer: Don´t drink and drive!
Manufacturer details: Louis

It all began with a small motorcycle workshop in Hamburg. Since then, Louis has become Europe's largest motorcycle and leisure retailer. And even now, after more than three quarters of a century, we at Louis are no less passionate about life on two wheels.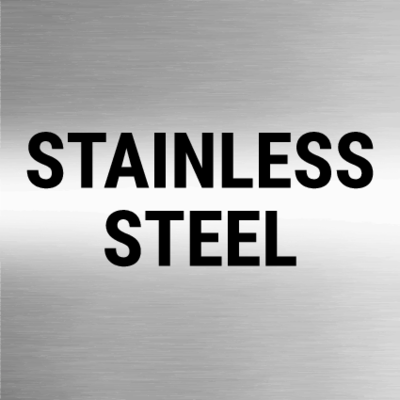 Stainless steel is a collective term for rustproof steel. It is much more resistant to corrosion than non-alloyed steels. Stainless steel does not deteriorate, and is hygienic, UV-resistant, non-corroding, fracture-proof, non-toxic and environmentally friendly. It does not weather and can be recycled in its entirety, even after many years. Technically, the term "stainless steel" refers to corrosion-resistant steel alloys with a wide variety of compositions but always containing a high percentage of chromium (usually a minimum of 10.5%)

.

MAINTENANCE:
Stainless steel should be cleaned regularly like all other materials, especially after exposure to salty air (near the coast), and also at regular intervals.
Water can easily collect in corners, edges and screw connections, resulting in corrosion. So careful cleaning is important, and if necessary screws should be undone in order to clean the parts thoroughly.
Do not leave rusty steel parts against stainless steel to avoid the rust "contamination".
The ratings will be available to you again soon.
+400 brands
2-year right of return
Fast delivery
Worldwide shipping