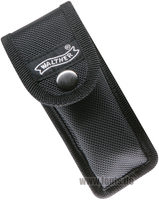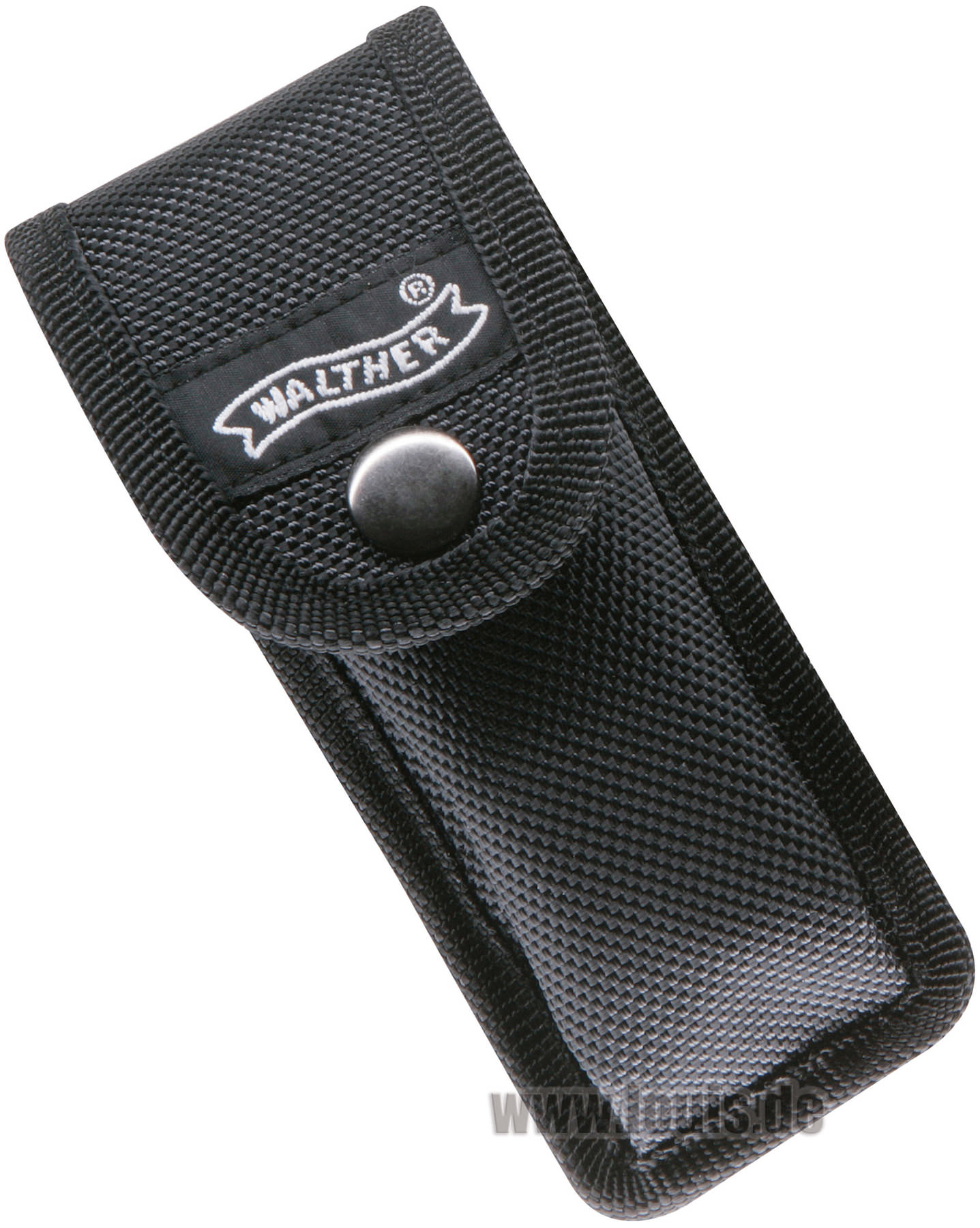 WALTHER BLACK TAC TANTO
JACK-KNIFE WITH HOLSTER
You have placed the following items in the shopping basket:
WALTHER BLACK TAC TANTO
JACK-KNIFE WITH HOLSTER
WALTHER Black Tac Tanto Folding Knife:

This fully fledged one-hand knife has a lock and also a protruding flipper at the base of the blade to assist with opening. You flip it with your index finger to open the blade (440 stainless steel). When open, the flipper also serves as a one-sided guard and ensures secure grip at all times. The matt black weighty blade with partial serration underscores the tough look of the knife. The knife handle is made of high-quality aluminium. Includes hard-wearing Cordura belt sheath with safety strap.

Further features:
Carrying clip
Integrated glass breaker
Eyelet for knife chain etc.
Dimensions:
Overall length: 223 mm (open), 130 mm (closed)
Blade length: 100 mm
Weight: 204g
Notice from the German Weapons Act (WaffG of 25 July 2009/§ 42a):
One-handed-opening or fixed-blade knives may be carried on your person in cases of legitimate interest. "Legitimate interest" applies if you use the knife in your profession, in the practice of traditional customs, in sport (hunting, angling etc.) or for a widely accepted purpose.

If you are travelling abroad, please note:
Before commencing your journey, you should check the regulations concerning the carrying of knives and other weapons which apply in the countries you intend to visit. The legal situation in other countries may differ considerably from German regulations. In some countries, you may risk incurring costly fines or even imprisonment!

If you are ordering from outside Germany, please note:
Before placing your order, you should check the legal regulations which apply in your country for the import and carrying of one-handed-opening or fixed-blade knives. In some countries, you may risk incurring costly fines or even imprisonment!

Manufacturer details: Walther

Innovation based on tradition!

Today, the long-established German firm also produces high-quality, robust outdoor equipment. Its knives, multitools and flashlights are highly developed and extremely reliable tools - equally valuable for camping holidays and trekking expeditions. In addition to the versatile multitool and the small but powerful flashlights, another useful item for bikers is the Rescue Knife, which you can open and use without taking your gloves off when you are rushed for time.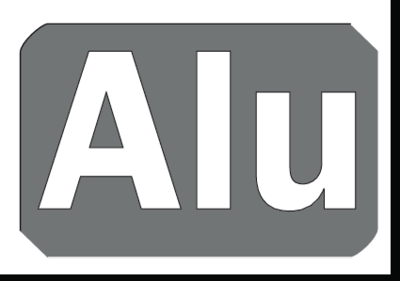 This product is made of high-quality aluminium and will look great on your motorbike. To ensure that it gives you years of pleasure, please observe the following instructions: To keep this product in top condition, it should be treated after long trips in winter, or in rain or salty air (near the coast), and also at periodic intervals.

Water and salt encourage corrosion. After cleaning (e.g. with Procycle Special Gel Cleaner, Order no. 10004909), we recommend regularly polishing aluminium parts with standard aluminium polish (e.g. Alu-Magic, Order no. 10004031).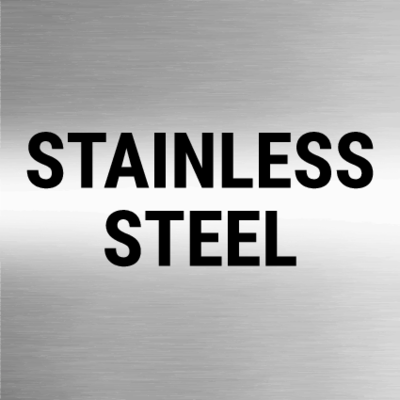 Stainless steel is a collective term for rustproof steel. It is much more resistant to corrosion than non-alloyed steels. Stainless steel does not deteriorate, and is hygienic, UV-resistant, non-corroding, fracture-proof, non-toxic and environmentally friendly. It does not weather and can be recycled in its entirety, even after many years. Technically, the term "stainless steel" refers to corrosion-resistant steel alloys with a wide variety of compositions but always containing a high percentage of chromium (usually a minimum of 10.5%)

.

MAINTENANCE:
Stainless steel should be cleaned regularly like all other materials, especially after exposure to salty air (near the coast), and also at regular intervals.
Water can easily collect in corners, edges and screw connections, resulting in corrosion. So careful cleaning is important, and if necessary screws should be undone in order to clean the parts thoroughly.
Do not leave rusty steel parts against stainless steel to avoid the rust "contamination".
The ratings will be available to you again soon.
Issue 26-2011
"Motorrad" magazine tested twelve different biker knives in its 26-2011 issue. The Walther "Black Tac Tanto" was rated GOOD. The following features were given special mention:

- The length of the blade, and its serrated finish, makes this a multipurpose knife
- Long handle fits comfortably in the hand

(nine of the knives tested were rated "Good", and two were judged "Very Good")
Issue 03-2010
The magazine "PS" tested the Walther Folding Knife in its issue of 3/2010 and rated it "GOOD". It singled out the following features for special mention:

- excellent workmanship
- saw and blade very sharp when new
- easy to resharpen
+400 brands
2-year right of return
Fast delivery
Worldwide shipping